From a school to a flock of chickens, AFAC offers you the opportunity to see how your contribution directly helps the orphans of eSwatini (Swaziland ) and Tanzania. AFAC is an IRS 501(c)(3) Non-profit and your generous donations are tax-deductible.
3 Ways to Give: Text-to-Give (Text AFAC50 to 844-954-3877 to give $50, or AFAC10 to give $10, etc.), Online (click here), By Mail


Checks may be made out to:
Advocates for Africa's Children
PO Box 637
Kettle Falls, WA 99141-0637
Donate chickens in eSwatini or Tanzania – $25
Child Sponsorship: Provide school fees, uniform, supplies, and food for a child for one year - $420/year or $35/month
Support a feeding center for orphans in eSwatini for one year - $1,200; or for one month - $100
Plant a food garden in eSwatini or Tanzania - $2,500
A garden enables a community to support themselves with a healthy, balanced diet and provides them with something to sell for school fees and clothing.
Create a sustainable animal business in eSwatini or Tanzania of chickens, rabbits, dairy goats, pigs or fish - $3,500
One primary school classroom with desks in $9000 (Tanzania)
Dig a hand-pump water well in eSwatini (Swaziland) - $7,500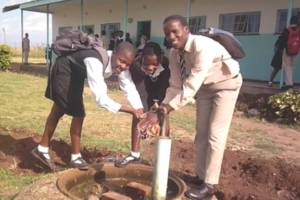 Install a water well with a solar-power generated pump, as well as a garden in Tanzania - $17K
Erect a community building in Tanzania - $17K
Build a primary school with four classrooms in Tanzania - $30K
Advocates for Africa's Children
PO Box 637
Kettle Falls, WA 99141-0637
Tax ID #65-1267550